This isn't a Mopar, but I wasn't sure where else to put it.
This is the second build that I did this winter as a gift. Funny, because I haven't really built a lot of cars for others. I wanted to build a car for my grandfather. He said the favorite car he's owned was a '41 Chevy convertible. It was yellow, and he said that he had the fenders painted black.
So I bought a Danbury Mint diecast of the car, disassembled it, and painted the fenders black. It seems like a simple task, but it has proven to be a royal pain. Even though I prepped and cleaned the body, I got fish eyes. So I had to carefully go back in and redo the fenders. I masked the edges with BMF, but some bled underneath, so I used black BMF to hide the mess. It's far from perfect, but I think it works.
I wanted a simple street scene so I made a base to look like blacktop and a sidewalk. I had an idea to put a picture of my grandfather's house in the background, but couldn't find a good one. I looked for pictures of the church he and my grandmother were married in, but there was nothing good on line. I remembered him talking about going to Ken's Steakhouse, in Framingham, MA, when he dated my grandmother, and I was lucky to find a decent picture of the place on the Internet. That's all that's left- mounting the picture to the back of the base.
I thought it would be neat to have the car as the only color and to have everything else black, white and gray. I think he bought the car used, so I made a plate from 1945 and put a 1945 inspection sticker on the windshield. He'll probably won't notice, but I know it's there.
I'll see him tomorrow for Christmas. Hopefully it brings back some memories for him, and a smile.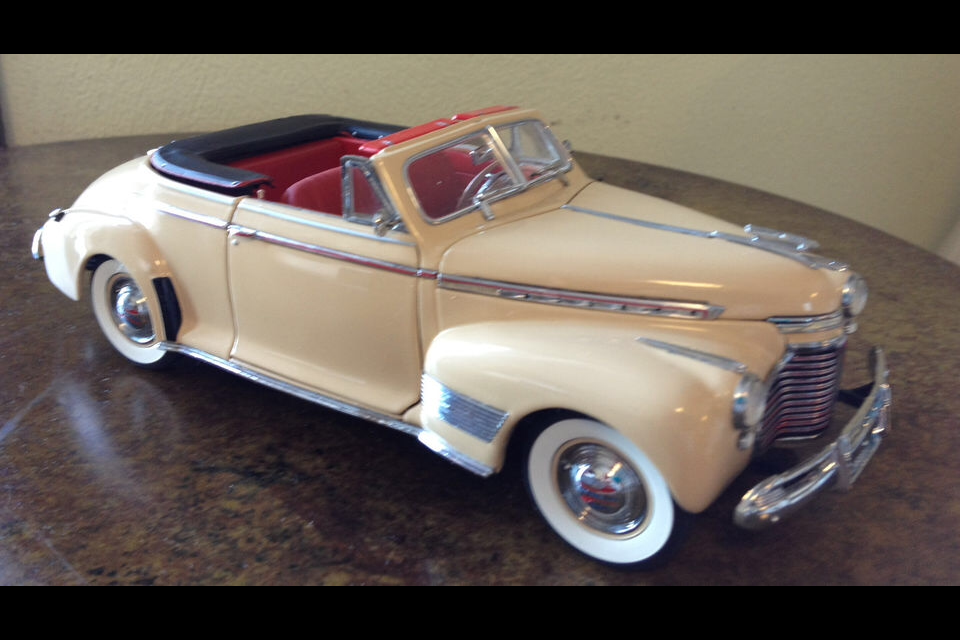 Before
After